There aren't enough hours in the day. How many times do we say this to ourselves while trying to get all the marketing tasks done? There's so much to do, and the end of 2022 is rapidly approaching.
Planning ahead sets you up for success. Stay on track throughout the busy holiday by putting an easy-to-follow plan in place for your 2023 marketing initiatives. Our award-winning Marketing Services team is here to help with end-of-year consultations.
Planning Your Year
Problem: Too many projects, budget concerns, tight deadlines, etc.
Solution: Consultation and planning
Using the calendar as a tool, Marketing Services can assist your credit union in developing an effective 2023 marketing plan that focuses on annual business goals and marketing objectives. Keep the following in mind as you get started:
Limit the number of marketing objectives. (You can have the same objective each quarter.)
Make objectives or goals specific and measurable.
Promote your most profitable and popular product(s).
Increase product penetration with your current membership. Three or more products or timely services should be targeted to each member annually.
Selecting Your Audience and Tactics
Once marketing objectives are captured, we will help match target audiences and various tactics to your campaigns.
Target Audience
TDM recapture
New membership
New accounts (within first 90 days)
Current members
Youth accounts
Senior accounts
Lending programs for current members
Business member accounts
Potential members in geographic areas surrounding your office or branches
Refer a friend
Various Tactics
Lobby posters/signage
Web banner advertisements
Promotional or specialty items
Email marketing campaigns
Interactive digital publications
Personalized, targeted mailers
Newspaper advertisements
Radio and TV advertisements
Response tracking
Sample Campaign Checklist & Marketing Calendar
Your campaign options are vast. Here is a sample checklist and marketing calendar to help with brainstorming and guiding your strategy:
Here to Help
Your credit union's marketing calendar can be as detailed as you need to keep you on top of your projects. We will work with you to design a plan that helps you achieve your goals, starting with your first campaign or initiative with a focus on the coming months.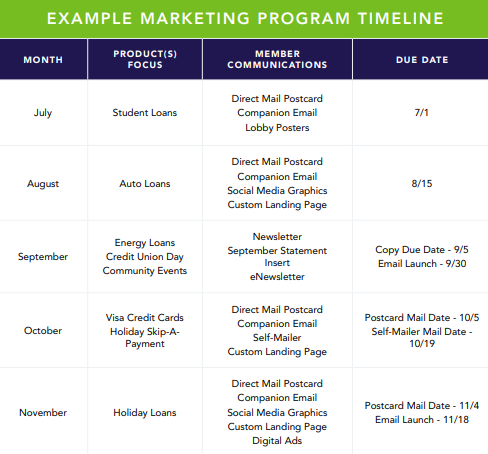 Schedule Your Marketing Consultation
Leverage tools like campaign and promotional material development, marketing automation, and data mining. Partnering with Synergent reduces stress and gives you the gift of more time to take care of your daily marketing responsibilities.
A dedicated Marketing Services Representative will keep an eye on the marketing calendar throughout the year, ensuring each objective stays on track and is implemented on schedule. Proposals and estimates are provided when necessary for budgetary planning as your marketing needs evolve. To get started, schedule your strategy session today!
Schedule Your Marketing Planning Consultation