For over 50 years, Synergent has been serving credit unions. Our organization has evolved over the decades alongside changes in the core processing, marketing, payments, and technology spaces. We are proud to be part of the vibrant credit union movement and thankful for the partnerships we share.
Key Milestones
August 18, 1971: MECUL Services Corp. is formed. Ted Desveaux led the organization as Managing Director (a title changed to President/CEO in the mid-1980s). He was instrumental in the introduction of data processing, printing, check processing, card services, and statewide advertising to Maine credit unions through the establishment of MECUL Services Corp.
November 1971: Member credit unions start accessing initial services, such as supplies, bookkeeping, auditing, printing, and mailing.
1973: MECUL Services Corp. signs agreement to offer data processing services, making it a leader at the dawn of the Information Age. A Burroughs B-500 mainframe computer was purchased and modified to accommodate the specific processing needs of credit unions. By the following year, eight credit unions had converted, and more were soon to follow. This real-time data processing was more sophisticated than the competing "batch" system offered by many banks.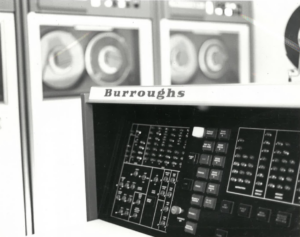 1984: MECUL Services Corp. begins offering ATM services.
1989: League/MECUL Services Corp. moves its office on outer Congress Street in Portland, Maine, to the new Credit Union Service Center in Westbrook.
1990: MECUL Services Corp. begins providing check processing services.
1992-2007: MECUL Services Corp. supports EPL Vision core processing platform.
1996: MECUL Services Corp. begins offering check collection services.
1997: Debit processing platform launched
2000: MECUL Services Corp. changes its name to Synergent.
2001: Credit processing platform launched
2004: Core processing platform migration transitions to Symitar's Episys®.
2004: Synergent becomes one of the first credit union suppliers to offer hardware and software for Electronic Check Collection (ECC).
2005: Synergent becomes the first in the country to integrate SMA's OpCon automation solution with Symitar's Episys core application to drive all operational processing. Today, it is packaged along with Episys and run routinely at hundreds of credit unions.
2010: Print & Creative Services evolves to become Direct Marketing Services. This enabled the organization to offer integrated, data-driven marketing services to credit unions.
2015: Synergent establishes Pineland Data Center.
2018: Symitar partnership expands nationally.
2022: Symitar Episys core processing is rebranded as Jack Henry Symitar.
Synergent President/CEOs